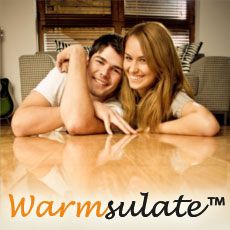 Warmsulate™ - Thermosoft's New
Floor Warming System
Installs Easily Without
Cement and Saves Energy.

Thermosoft International Corporation, a market leading manufacturer of electric warm floors, offers a revolutionary floor warming system for floating laminate and engineered wood floors. Where most traditional floor warming systems must be imbedded in cement, this
new system, marketed under the brand name Warmsulate, installs directly under laminate, wood and engineered wood floors without cement.
Warmsulate simply replaces the generic foam pads that are normally laid under these types of floors. Roll out Warmsulate heating pads, route the lead wires to power, duct tape the seams, and lay the floor. There is simply no easier way to achieve a warm floor than with Warmsulate.