Press Release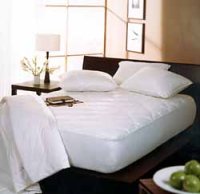 January 6, 2001
PERFECT FIT INDUSTRIES
Bedding: Sleep cozy with warming mattress pads


Electric warming blankets have been around for years, and now there's electric warming mattress pads, too. Perfect Fit Industries introduces both warming blankets and mattress pads that utilize ThermoSoft Technology, which eliminates bulky wires found inside common electric bedding products.
The Perfect Fit bedding use soft, slim and nearly inconspicuous heater tapes that conduct the heat evenly throughout the fleece blanket or pad.
The technology includes a safety feature that prevents excessive overheating; the products automatically shut off after 10 hours of use. Find them at Sears, JC Penney and Linens & More. Prices start at $70 for a twin pad.


Questions: contact us>>>